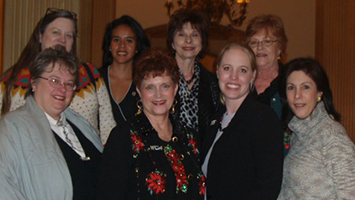 Our Organization
Dynamic professional group comprised of those actively engaged in business, retired from an active career and still pursuing their education. Diversity is our greatest asset as membership is open to all professions.
We are proud to have members representing a wide variety of businesses and professions including entrepreneurs, real estate professionals, financial consultants, published authors, counselors, artists, accountants, and executives in transportation, publishing,  media, travel, and others. We exchange ideas, network and provide a supportive sounding board for our members.
   Mary Abshier 

Mary Abshier is an interior decorating consultant. She develops personalized color schemes and creates decorating plans reflective of her clients' individual lifestyles and tastes. Mary provides direction for renovation completion. Her background includes 29 years of experience as a state registered interior designer.

Mary also manages Made in the Family, featuring vintage collectibles and hand-crafted items curated by Mary. The booth, located in Thompson's Antique Center, is a family enterprise with Mary and her husband, mother, and cousin collecting, transforming, and creating unique and one-of-a-kind pieces. Custom items can be crocheted, sewn, or created upon request. Plus she provides insightful vision and recommendations for those seeking appropriate gifts for all occasions.

   Margaret E. Anderson
Margaret E. Anderson, Trainer, Author and Consultant, helps people get what they need from others, while building bridges, not burning them. She brings to the table decades of actual use of the interactional skills she teaches, as well as many years of training groups and individuals in consensus building and related communication skills.

A Harvard-trained negotiator, Margaret designed and taught her own curricula for Rice University's Glasscock School of Continuing Studies from 2002 to 2014. She has also lectured for the University of Houston and for Texas State University. Prior to launching her training and consulting business, she gained experience in international and domestic business and was instrumental in resolving a number of serious disputes. Her clients include both for-profit and non-profit organizations, professional groups, and individual leaders and professionals.

Margaret is author of the books Bridges to Consensus and Love on the Rocks with a Twist--Delightful Fiction with Lessons on Dealing with Others. Her blog is devoted to consensus building, persuasion, and related communication skills. PersuasionCoach.com

   Rosemary Behrens, M.A., LPC-S

Rosemary Behrens, M.A., LPC-S

Helping others has been Rosemary Behren's mantra for as long as she can remember. In working with counseling issues, she enjoys helping others to learn coping skills, move past relationship issues, and see their full potential. She sees significant value in assisting clients coping with chronic pain as they increase their understanding of the difference between acute pain and chronic pain. Rosemary enjoys working with individuals, couples, children and adolescents. She utilizes Cognitive-Behavioral, Adlerian, Family Systems, and Existential theories, and she believes in addressing the whole person encompassing body, mind and spirit. As a licensed professional counselor-supervisor, Rosemary assists counseling interns in accomplishing their goal of becoming counselors.

   Virginia Mampre

Virginia Mampre (Owner) – Mampre Media International A television distribution, syndication and production business that also handles media/marketing campaigns for the domestic and international markets. Full length and interstitial programming reaches network affiliates, cable networks and a variety of new platforms. Many programs come with ancillary products for merchandising, such as books, DVD's and packaged products which relate to the central program or series.

   Leigh Owen
Leigh Owen is the former director of marketing for Vickie Milazzo Institute, one of the Top 25 Woman-Owned Businesses in Houston. She oversaw all advertising, public relations, marketing materials, and the company's multiple websites. A veteran marketing pro, Leigh continues to write, edit, and produce effective educational material for Vickie Milazzo Institute. Leigh also has two decades of book publishing experience, gained as director of marketing for Gulf Publishing Company's book division.

A native Texan, Leigh received a B.S. with a dual major in art and biology from Stephen F. Austin State University.

Leigh is a past president of the Federation of Houston Professional Women and the Houston Financial Council for Women, now Houston Focus on Concerns for Women. She served on the board of the University of Houston Friends of Women's Studies Program for more than 20 years and she chaired the advisory board for Women in the Visual and Literary Arts for two years. She is currently serving on the UH Libraries Dean's Campaign Committee and Cabinet as vanguard for the rare books collection. Also a member of the Visual Journalers Group, Leigh writes haiku, goes birding with her husband, creates art cards and collages.

   Jeanne M. Perdue
Jeanne M. Perdue is a Technical Writer at Occidental Petroleum. After earning a BS in Chemistry at SUNY at Albany, she worked in the Texaco research labs for 14 years before becoming an oilfield journalist for Hart's E&P magazine. A Distinguished Member of the Society of Petroleum Engineers, Jeanne served as Chair of the SPE Gulf Coast Section. After being elected to the Alief ISD school board and serving as President of the Alief Education Foundation, she now serves on the Houston Community College Foundation Board and the Univ. of Houston Petroleum Engineering Advisory Board. She is developing an Oil Patch Writing course based on her blog, which has had nearly 900,000 hits since 2012.

   Chris Rogers

Chris Rogers is a Texas novelist whose stories cover an array of genres, including mystery, suspense, paranormal and science fiction. As a ghostwriter, she has co-authored nonfiction, has published books ChrisRogersBooks.com on writing, such as Goosing the Write Brain: A Storyteller's Toolkit, and speaks often at writing seminars. Her work has been included in Writer's Digest Magazine, Alfred Hitchcock Mystery Magazine, A Taste of Murder, various anthologies and, most recently, a Writer's Digest book – Crafting Dynamic Dialogue.Also an artist of abstract-expressionist paintings, Chris's work can be found at various Texas galleries and online.  She conducts abstract painting workshops that attract participants from beginner to professional and publishes a blog at chrisrogers.com that provides free tips on both writing and painting.

Before moving to the countryside, Chris was president of the National Association of Women Business Owners - Houston Chapter, Mystery Writers of America – Houston Chapter and Houston Focus on Concerns for Women. She also served on the board of the Greater Houston Speakers Association.

   Carol Hays Teufel
Born in Paducah, Kentucky, Carol Hays Teufel at age six moved with her family to Missouri for her father's optometry practice. She graduated from Helias High Catholic School in Jefferson City, MO. Musically inclined, Carol played the organ in her church, was the school pianist, dreamed of being a female Liberace, and appeared on the Ted Mack Amateur Hour three times. A senior scout, she also served as a staff sergeant in the Civil Air Patrol. At 14, Carol trained and became a lab technician for two years.

The family moved to Houston when she was 17. She worked as a clerk typist in a clinical lab. She next worked as a secretary to an architect who built schools and churches in Hawaii, and later for a Chief Engineer at Dresser Industries. She worked for attorneys in various sectors of law, including becoming office manager for a criminal/tax attorney as his office manager.  She attended night school at the University of Houston for three years, majoring in liberal arts.

Carol enjoyed working as a legal assistant in intellectual property law, her preferred field of law, for more than 25 years. She married twice and both husbands are deceased. She has traveled to 17 countries, sung with several Sweet Adelines choruses, the Memphis City Sound Chorus in 1956 and '57, Port of Harmony, and the Houston Horizon Chorus. She has competed in quartets in regional competitions and has coached quartets. In addition to singing and playing piano, she spends time playing duplicate bridge, collecting art, and listening to new pop and modern jazz.

   Marilyn Turner

Marilyn Turner (Turner-Ewing Enterprises) – with a background covering several areas, Marilyn Turner works with select clients and groups, traveling to many points around the globe. She continues to write and edit various publications. In addition, she represents Lady Jayne Ltd., a vendor of nickel-free charms and earrings, specializing in Swarovski crystals. A portion of each sale is donated to charity.